Hi everyone!
We hope that you are doing well. As the situation and communications remain uncertain worldwide, it's good to know that most lotteries can be played without even leaving your house. We will keep posting our weekly updates - this time, let's check the results in South Africa from 30 March to 5 April.
Lotto
There were two draws live (Wednesday, 1 April and Saturday, 4 March). While comparing with the week before, last week was not that successful result-wise. No one landed neither the jackpot nor the 2nd best prize across both draws. The biggest win was the combination of 5 numbers which brough R8,455.3 for more than 20 players. However, the chances to win any prizes in this particular lottery (at least R20) start at 1 in 72 - why not try your luck next week? Given the history of results, it is really likely to make it to the solid win!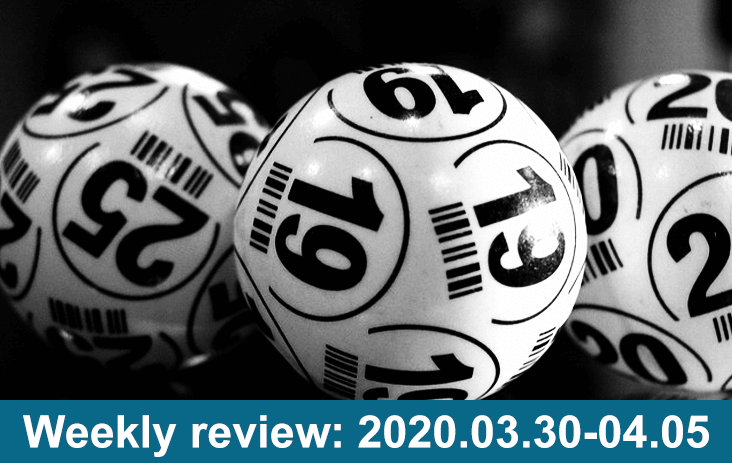 Powerball
Powerball results were announced twice last week: these took place on Tuesday (31 March) and Friday (3 April). Similarly as a few weeks before, there were no winners of the main jackpot (5 numbers plus POWERBALL) across any of these draws. Good news: 3 players managed to get the 2nd best combination (5 numbers) on both Tuesday and Friday. The prize for this one was worth either R382,910 or R215,390.6 each.
Powerball Plus
Powerball Plus draws were set on the same days as Powerball last week: Tuesday (31 March) and Friday (3 April). There were also no winners of the jackpot (5 numbers + POWERBALL) across both draws. Similarly as in Powerball, the division for the 2nd best prize (5 correct numbers) looked better: on Tuesday's draw, 1 player won R172,297.3 and on Friday the prize of R190,574.7 was delivered to a lucky player. The probability to win these prizes was the same as in the original Powerball - 1 in 1,286,062.
Lotto Plus 1
Lotto Plus 1 was on air on Wednesday (1 April) and Saturday (4 April). Even though no one won the jackpot (6 correct numbers) across these draws, 2 players received the 2nd best prize (5 numbers + BONUS) last week, worth R50,196.
Lotto Plus 2
Finally, Lotto Plus 2 was live on the same days as Lotto Plus 1. The results of this game were not that well (neither the jackpot nor the 2nd best prize went away during these draws); nevertheless, we are happy that more than 50 people won prizes in the 3rd division (5 numbers)! These prizes were either R2,855 (Wednesday) or R5,150.6 (Saturday). The sum acquired depended on the number of other players who received the same prize on a particular draw - the larger the number, the lower the prize.
Congrats once again and see you all next week! Take care and best of luck.