Hi everyone!
We really hope that you are doing well! During this uncertain period when more and more entertainment is moving remotely, it's good to know that most lotteries can be played without even leaving your house. We will keep you updated with the results - this time, let's check what was going on in South Africa last week (16 March-22 March
Lotto
There were two draws live last week (Wednesday, 11 March and Saturday, 18 March). Unfortunately, there were no players who won the jackpot (given for 6 numbers) or the 2nd best prize (given for 5 numbers + BONUS). However, we are happy to announce that 58 players (19 on Wednesday and 39 on Saturday) had 5 numbers correctly and won either R10,816.3 or R6,360.0. Overall, the chances to win any prizes in this lottery (at least R20) start at 1 in 71 - why not try your luck next week?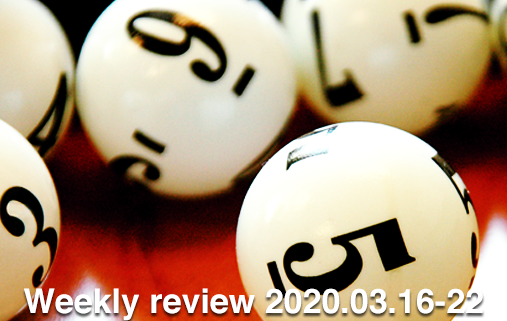 Powerball
Powerball had its usual two draws last week. They took place on Tuesday (17 March) and on Friday (20 March). Similarly as the week before, there were no winners of the main jackpot (5 numbers plus POWERBALL) across any of these draws. However, 7 players managed to get the 2nd best combination (5 numbers) on Friday. The prize for this one was worth R67,776.2 each. Also, the probability of getting it remained 1 in 1,286,062.
Powerball Plus
Powerball Plus draws were set on the same days as Powerball last week: Tuesday (17 March) and Friday (20 March). There were also no winners of the jackpot (5 numbers + POWERBALL) across both draws. However, the 2nd best prize (5 correct numbers) was acquired for a few times: on Tuesday's draw, 1 player won R197,668.7 whereas on Friday 1 player landed R219,126.4. The probability to win these second best prizes was exactly the same as in the original version of Powerball - 1 in 1,286,062
Lotto Plus 1
Lotto Plus 1 was live on Wednesday (18 March) and Saturday (21 March). Even though no one won the jackpot (gained with 6 correct numbers), 1 player landed the 2nd best prize (5 numbers + BONUS) last week. The prize, worth R117,004.4, was given away on Wednesday.
Lotto Plus 2
Finally, Lotto Plus 2 was live on the same days as Lotto Plus 1. What is interesting, the results of these games were somehow similar too. No one landed the jackpot (or, in other words, scored 6 correct numbers); nevertheless, there was 1 lucky player on Saturday. This person got 5 numbers with an additional BONUS and therefore won R146,645.5. As in Lotto Plus 1, the probability to win this particular prize is 1 in 3,393,087 - well done.
Congrats once again and see you all next week! Take care and best of luck.