Hi everyone!
No matter how difficult the last week was, we do really hope that you are doing well! As most lotteries can be played remotely, we will not stop sharing our weekly insights - this time we are sharing the results of South Africa from last week (9 March-15 March).
Lotto
There were two draws live last week (Wednesday, 11 March and Saturday, 18 March). There was 1 player who landed the jackpot (R58,390,418.7 for 6 numbers) during the draw on Saturday - congratulations! Also, 2 players (1 on Wednesday and 1 on Saturday scored the 2nd best combination (5 numbers + BONUS) - the prize varied from R86,113.7 to R115,508.0. Overall, the chance to win prizes in this lottery (at least R20) was 1 in 96 - so do not hesitate to try your luck next week.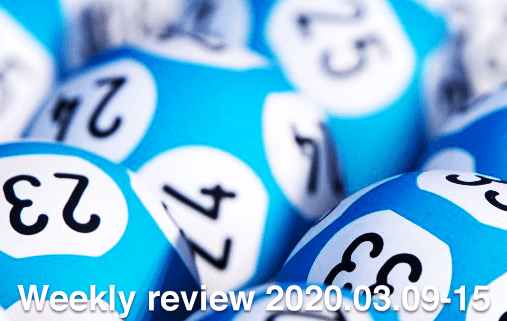 Powerball
As usual, Powerball had two draws last week. They took place on Tuesday (10 March) and on Friday (13 March). There were no winners of the main jackpot (5 numbers plus POWERBALL) across these draws, yet 5 players got the second best result (5 numbers). This combination was worth R140,014.5 on Tuesday and R235,201.2 on Friday. The probability of getting this prize remained 1 in 1,286,062.
Powerball Plus
Powerball Plus draws were set on the same days as Powerball last week: Tuesday (3 March) and Friday (6 March). There were also no winners of the jackpot (5 numbers + POWERBALL) across both draws. But some moments were enjoyable: for example, on Tuesday's draw, 3 players won R64,209.3 (the second best prize for 5 correct numbers) each and on Friday, 1 player won R221,599.2. The probability to win these second best prizes was exactly the same as in the original version of Powerball - 1 in 1,286,062.
Lotto Plus 1
Lotto Plus 1 was on air twice Wednesday (11 March) and Saturday (14 March). Each draw witnessed a winner of the jackpot - the lucky ones got either R6,869,143.8 or R1,201,634.6 for 6 correct numbers. Also, there was a player on Wednesday who received the 2nd best combination (5 numbers + BONUS). This was worth R150,509.8. The chance to get this prize was 1 in 3,393,087 across both draws. Meanwhile, the jackpot had a much lower probability of winning - 1 in 20,358,520. Therefore, the distribution of top winners may seem a bit unusual.
Lotto Plus 2
Finally, Lotto Plus 2 was live on Wednesday (11 March) and Saturday (14 March). These draws were not that successful - no one won neither the jackpot nor the 2nd best prize. However, 50 players scored 5 correct numbers and thus won either R5,141.8 or R6,703.7!
Congrats once again and see you all next week! Stay healthy and safe.